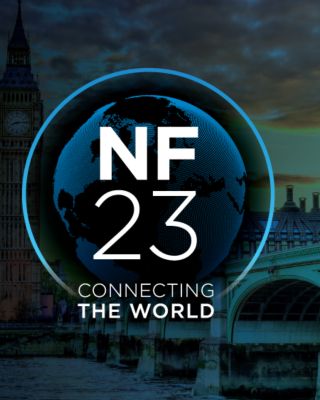 SEE THE NIAGARA COMMUNITY IN ACTION
The era of the Internet of Things (IoT) has arrived – a time when openness and connectivity are vital to realising operational efficiencies in commercial buildings.
The Niagara Forum 2023 will be the place to learn what truly open systems can achieve and how to make the most of the opportunities offered by the IoT. The Niagara Framework has the power to connect diverse devices and systems in ways that have never been imagined before. Whether you are designing for an office, hospital or data centre this truly open platform empowers users to achieve more than they thought possible.

The Niagara Forum brings together the Niagara Community to learn more about the Niagara Framework, exchange ideas, and make connections with other industry leaders. It provides an opportunity to gain insight into emerging trends and technologies.

Who should attend?
| | | |
| --- | --- | --- |
| Building Owners | System Integrators | Manufacturers |
| Engineers | Facility Managers | Environmental Executives |
| Developers | Consultants | Industry Professionals |
AGENDA OVERVIEW
MONDAY, 15 MAY

8:00 - 13:00 | Trade Show Setup, Park Plaza Westminster
DEVELOPER DAY AGENDA
13:00 - 17:00 | Developer Day Pre-Event Sessions for Niagara Sofware Developers
Tridium's lead software developers and architects will be sharing their expertise and knowledge with experts from the Niagara Developer Community.
Hear about how to code with new techniques, tips and tricks, as well as master classes on how to extend features in the Niagara Framework.
19:00 - 21:30 | Welcome Drinks Reception and Exhibition, Plaza Suite
TUESDAY, 16 MAY

PLENARY SESSIONS
09:00 to 12:00 | Plenary Sessions
12:00 to 14:00 | Networking and Lunch in Exhibition Suite
BREAKOUT SESSIONS
14:00 - 15:30 | Cloud Services
DESCRIPTION: Hear from Industry Experts about how Niagara and Cloud Platform Services are transforming the way buildings are managed, as well as how building lifecycle is gaining value from new technology. 
16:00 - 17:30 | Thinking Outside the Box
DESCRIPTION: Industry innovators share success stories using new ways to approach project financing.
14:00 - 15:30 | Product Update
DESCRIPTION: Tridum's product team cover details about new products and features in the Niagara Framework.
16:00 - 17:30 | Niagara Deep Dive
DESCRIPTION: Niagara experts show how easy new Niagara features can efficiently implement JSON packaging of data which is a popular choice for MQTT connections to the Cloud as well as visualisation libraries. Learn the secrets of good User Interface design and hear how new responsive graphic features can create great views of Niagara data from the big screen to the small screen.
14:00 - 15:30 | Learn About Niagara
DESCRIPTION: Learn about Niagara and how to engage with the Niagara Community
This track gives a high level overview of Niagara capability, deployment and its applications for those who are new to the opportunities that Niagara can bring.
16:00 - 17:30 | The Rise of Master System Integrators
DESCRIPTION: Consultants, Specifiers and Contractors Change is coming to construction projects with the new breed of Master Systems Integrators. Hear how the rise of MSIs are influencing project responsibilities and address the need for specialist technical skills.
BIM is a vision for the lifecycle of buildings from construction through to operation. Learn how a European partner project delivers a comprehensive BIM solution that leads the way to the future.
18:30 - 22:30 | Drinks Reception and Gala Dinner
WEDNESDAY, 17 MAY

PLENARY SESSIONS
09:00 - 10:30 | PLENARY SESSIONS
Hear about Market Trends for the IoT and building controls industry
KeyNote Speaker: IoT, Futurism and Artificial Intelligence
10:30 - 11:00 | Break
BREAKOUT SESSIONS
11:00 - 12:30 | Niagara in the Real World
DESCRIPTION: Hear from our partners and end users how Niagara is being deployed for innovative and large-scale applications. Case studies will show how Niagara delivers real benefits across a diverse range of systems, as well as how the use of analytics can deliver massive savings.
11:00 - 12:30 | Niagara Deep Dive
DESCRIPTION: Niagara experts show how to use new productivity tools that accelerate system configuration and maintain systems efficiently.
Templating and Provisioning feature enhancements now deliver simple step application and system building, saving engineering time.
Rapid building of Supervisor stations is faclitated by the System Database and on-demand graphics.
Learn how to use Single Sign-On and new Kiosk support for easy access to system views.
11:00 - 12:30 | INNOVATIVE PRODUCTS
DESCRIPTION: New for 2023 we are introducing a showcase of innovative applications from our Niagara Community partners.
12:30 - 14:00 | Networking and Lunch, Exhibition Suite
BREAKOUT SESSIONS
14:00 - 15:30 | INNOVATIVE NIAGARA SOLUTIONS
DESCRIPTION: Hear from industry experts about how Niagara and Cloud Services are transforming how buildings are managed, using automated workflow to deliver operational efficiencies and end user benefits.
14:00 - 15:30 | NIAGARA DEEP DIVE
DESCRIPTION: Learn from Niagara experts how Cyber Security is a requirement to manage, explaining the detail of what to do to keep your Niagara installation secured. The new Security Dashboard helps highlight key areas that need attention and watch how it helps maintain good security practice.
See the power of using metadata and how its many benefits can make analysing Niagara data an easy task.
Conference Dress Code: Business Casual
Agenda subject to change