Did you know that your internet is out of date?
Your browser is out of date, and may not be compatible with our website.
Just click on the icons to download a compatible browser. 
Close this window
By closing this window you acknowledge that your experience on this website may be degraded. 
/content/tridium/us/en/search.html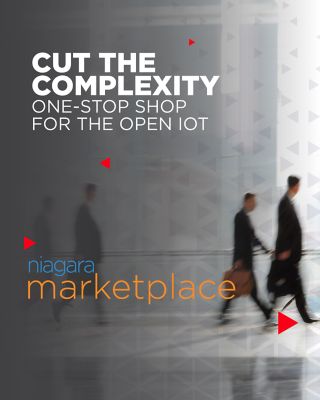 EXPANDING IOT CAPABILITIES
The Niagara Marketplace connects customers and sellers to a single location to further enhance growth, visibility and IoT capabilities.
Discover, distribute and continuously innovate in the Niagara community's one-stop-shop. Backed by a dedicated team of experts and built with the latest technology stack, customers and sellers can seamlessly connect to expand their capabilities – without all the complexity.
Start exploring the singular location now, with the offerings and innovations of authorized resellers and developers.
Get Noticed on Niagara Marketplace
Put your Niagara-based innovations and expertise on display, make connections, generate revenue and grow your market share.
Increase your Influence by:
Easily creating product listings that describe features and benefits
Build a partner profile that speaks to your capabilities and competencies
Construct a resource library of captivating content
Tag your product and partner listings to applications, product types and more
Leverage customer reviews, ratings and testimonials to drive sales and raise brand awareness
Enhance your capabilities, increase visibility, grow market share, elevate trust and encourage community growth – all in the open IoT.
Niagara Marketplace Features
Connect with solution providers worldwide who optimize the Niagara Framework as the operating system of the IoT
°
Robust search functionality for finding Niagara-based IoT capabilities, solutions and products across a wide range of applications and industry verticals
°
Top level content materials posted by solution providers for zeroing in on the best fit
°
Reviews and ratings posted by thousands of Niagara Community members that can aid in the selection process
°
Purchase products and immediately download and license for accelerated utilization
Be discovered on Niagara Marketplace
Currently open to all authorized resellers and developers of Niagara Framework products, and included with annual support renewals
Partner & Product Listings
Link up to level up. With the Niagara Marketplace you are able to reach a global network of people who want to take IoT connectivity further and connect with the providers who can make it happen.
Seamlessly create partner and product listings to let customers your Niagara-based IoT solutions. Tap into your power to help take their business to the next level.
Features
Generate revenue
Showcase your creative content
Include images for maximum visual impact
Tag application, region, and more to every listing for easy visibility and reach
Collect and leverage customer reviews and ratings to drive sales
Display your full range of offerings
Niagara Marketplace Newsletter
The Niagara Marketplace newsletter provides information on core enhancements, updates for sellers and featured content.